What to look for in a pedometer
Deciding what kind of pedometer you want can be tricky.  There are so many types and styles in the market.  If you do a Google search you will come up with so many options and prices that range from $5.00 to $200. How do you decide?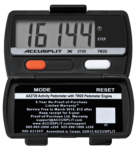 Think about what you want to accomplish.  Do you want to be more active? Then you probably want to track your steps and activity time.  Do you want to lose weight? You can accomplish that by tracking steps and activity time as well but you could add in Calories Burned.  Remember that there is a balance between caloric intake and activity if you want to lose weight.   Mr. Pedometer calls it  "Eat Right, Move More".  You can add distance, some have GPS, alarms, and some even talk.
Deciding what you want to achieve will help you decide what type of pedometer you want to wear.
Some other things to look for when purchasing a pedometer is the warranty and battery life.  Look for a pedometer that has a good warranty and a battery that will last at least a year.  Selecting a pedometer that will go into "sleep" mode when it is inactive will make your battery last longer.
If you need help selecting a pedometer that will meet your individual needs, feel free to contact us.    We can offer suggestions that can help you in your decision.  Email us at Info@Pedometer.com