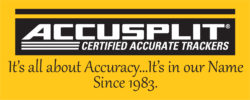 AX2710 Ultra Thin Accelerometer Pedometer   
It's Certified Accurate for Research.
>Click here for User Instructions<
•

Our New

low-power

accelerometer with PedometerEngine™ TW20



• Accurate Step Count at every angle of Tilt!
• Over

1-year

battery power-an unheard of feature in
pedometers with accelerometer sensors
• 2 New Functions help keep power consumption low
– Hibernate Mode: From factory to user
– Sleep Mode: After 5 minutes of no activity                                                              
•

5-second

Display Accuracy Filter prevents recording
false steps

• Ultra Thin case

• NEW Classroom Rainbow 6 pack. Contains (1) each
of Yellow, Orange, Red, Purple, Blue, Green.                       
(Black sold separately as a single item)
• Magnum display digits for easy viewing
• ACCUSPLIT's 5-Year Dual, No Proof and Proof of Purchase                          
Limited Warranty
Product Package Contents:
AX2710  Pedometer
3 Way Pedometer Leash System
Instructions
Battery (Inserted)