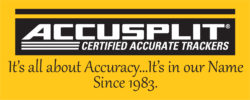 AH120M9 Pedometer 
Accurate, High Quality Pedometer
>Click here for User Instructions<
ACCUSPLIT is proud to bring you new memory pedometers with




the highest accuracy rating available on the market today.

These pedometers draw on the power of the brand new




Kato-Sutton 10 (KS10) PedometerEngine™.

The KS10 Step Sensor was developed by the world's




foremost pedometer expert, Y. Kato, and ACCUSPLIT's




own W. Ron Sutton.

The AH190M28 has memories for steps, distance, and




calories for the current day, previous seven days, and




totals. It also includes an activity timer.

The AH120MAG is a steps-only model with MAGNUM display




digits—our largest ever!

Pedometer includes quality features such as a sturdy metal




belt clip, long-lasting Lithium battery, and large display digits.

Backed by ACCUSPLIT's 5-Year Dual, No Proof and Proof of




Purchase Limited Warranty.
AH120M9 Series Packages Include:
➣ AH120M9 series Pedometer
➣ Most accurate mechanical PedometerEngine™ 99%
➣ 3-Way Pedometer Leash System
Functions 
Memory

Step Counter 9 Memory
Features
Display Size XL

Warranty 5 Yr Dual 

Battery / Life (Incl) CR2032 5 Years