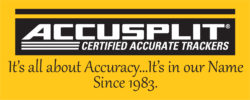 AE120XLGM Enhanced Digi-WalkerXL Pedometer
Featuring the JW200 PedometerEngine™–Tested "Most Accurate"
Generation III AE100XL/GM Series
>Click here for User Instructions<
Since 1983, ACCUSPLIT has worked with the Kato family of Japan to




develop pedometer technology such as the JW200 (DigiWalkerXL)




PedometerEngine™ step sensor.

ACCUSPLIT's AE100XL/GM Series gives you the JW200 step




sensor

you know and trust, but with many new features and




improvements!

The features include Extra Large display digits, a steel clip, and




a super-tough polycarbonate case with integrated leash slots.

We've also added exciting functions, such as Memory, Goal




Tracking, and an Automatic Activity Timer.

Some models include Distance, Calorie and Step Filter (0-5) functions

Comes with our 5- Year Dual No-Proof and Proof of Purchase Limited Warranty.
AE120XLGM Enhanced Digi-WalkerXL Pedometer packages include:
➣ AE100XL/XLGM Series Pedometer
➣ JW200 (DigiWalkerXL) PedometerEngine™ step sensor
➣ 3-Way Pedometer Leash System
Functions
Step Counter 100,000 

Auto Activity Timer YES

Trip & Total Memory YES

Goal Tracking YES
Features
Display Size XL 

Leash Slot 

w/attached Leash YES 

Warranty 5 Yr Dual 

Case Material polycarbonate

Clip-Material  Steel

Adjustable Step Filter 0-5

Battery / Life (Incl) 

LR44 

18 Months